ASX is planning for the replacement of the system that underpins the post-trade processes of Australia's cash equity market, known as CHESS (the Clearing House Electronic Subregister System). The purpose of this consultation is to seek the views of stakeholders on their requirements for the system to replace CHESS.
Submissions should be made by 28 October 2016.
Distributed ledger technology
ASX commenced a process of evaluating replacement options for CHESS in 2015. In January 2016, ASX selected Digital Asset Holdings LLC as a technology partner to develop, test and demonstrate to ASX a working prototype of a post-trade platform for the cash equity market using distributed ledger technology (DLT, an example of which is commonly referred to as 'blockchain'). This initial phase of work was completed in mid-2016. From this work, ASX concluded that DLT:
has met initial capacity tests for ASX's scalability, security and performance requirements for a replacement system when deployed in a permissioned private network. Further testing of the technology will be conducted as part of the next phase of development

offers potential benefits for issuers, investors, intermediaries and regulators through improvements and innovations in operational processes.
Timeline
ASX has commenced a further phase of work to formulate the business requirements for the system that will replace CHESS and to build the working prototype to an 'industrial scale' post-trade platform using DLT over the next 15 months. ASX expects to make a decision towards the end of 2017, in consultation with stakeholders, on whether to implement a DLT-based replacement system.
ASX's pathway for the replacement of CHESS is outlined below.
Business requirements - new functionality and services to be provided by the new system
Access to the settlement infrastructure by a second Central Counterparty (CCP)
In accordance with the announcement by the Treasurer, the Hon Scott Morrison, on 30 March 2016 about the Government's policy approach to competition in cash equities clearing, the system that replaces CHESS will be configurable to provide a second licensed central counterparty (CCP) with non-discriminatory access to settlement services.
The Treasurer said the Government is committed to putting in place the regulatory arrangements required for 'safe and effective' competition in cash equities clearing. Further information is available in the Treasurer's announcement.
International standard messaging protocols
ASX will provide International Standards Organisation 20022 (ISO 20022) messaging as part of the replacement of CHESS. ASX is assessing whether there is demand for CHESS messaging to be provided for a period of time to allow the smooth transition to ISO 20022. In this case, ASX could offer a translator service to enable both messaging formats to run in parallel. The introduction of ISO 20022 will assist in standardising technology infrastructure and managing technology support and maintenance costs, particularly for participants that operate in multiple markets, as it would allow them to operate a common set of systems, servers and software. Further discussion on the introduction of ISO 20022 is provided in a separate section of this paper.
Non-functional requirements
Recognising the high regulatory, operational and security standards that apply to Australia's financial markets, the new system will meet or exceed the following non-functional requirements currently delivered by CHESS.
Availability, reliability and performance: the new system will meet ASX critical system availability requirements of 99.95%, minimise or eliminate single point of failure, and support automatic failover where relevant. It will be recoverable without loss of data in the event of failure. It will also provide extensive logging and alerting, and be horizontally scalable with a minimum of 100% performance headroom.

Privacy and security: all access to data will be controlled by modern encryption and authentication technology. Perimeter data security measures will be implemented such that it is only accessible by authorised parties. Privacy and security measures that are implemented will be equal to or better than those available today.

Compatibility: the system will support the migration of existing CHESS reference, transaction and history data. It will also support current CHESS business functions and processes, where such processes are continued.

Regulator access and surveillance: regulators will be provided access to reference and transaction data, and the system will provide for the retrieval of historical transaction data.
CHESS replacement roadmap
ASX will work with customers through distinct program phases to implement the new system to replace CHESS. ASX's focus over the next 15 months is to define the requirements for the first phase of the replacement of CHESS, and to investigate the feasibility of potential technical solutions for the replacement, including the use of DLT. ASX expects to make a decision on the technology solution in the fourth quarter of calendar year 2017. The timeline for the next 15 months is set out below.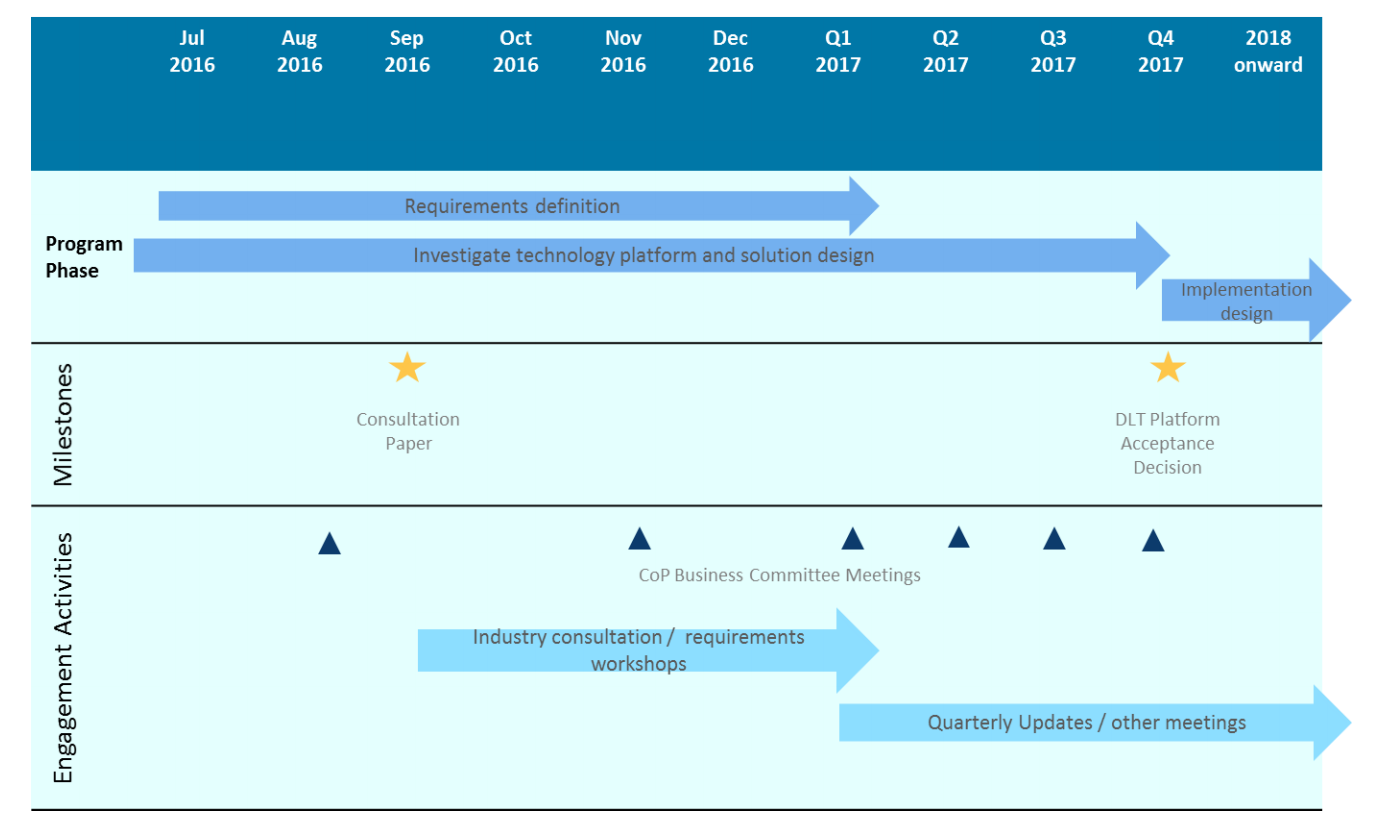 Overview of ASX's Equity Post-Trade Services
The clearing and settlement of equities performs a critical role in the operation of Australia's financial markets, helping to reduce counterparty and systemic risk, and providing transaction efficiency and certainty for end investors. The following diagram demonstrates the core services provided by ASX Clear, ASX Settlement and the interaction with various market stakeholders (Statistics at 29 July 2016).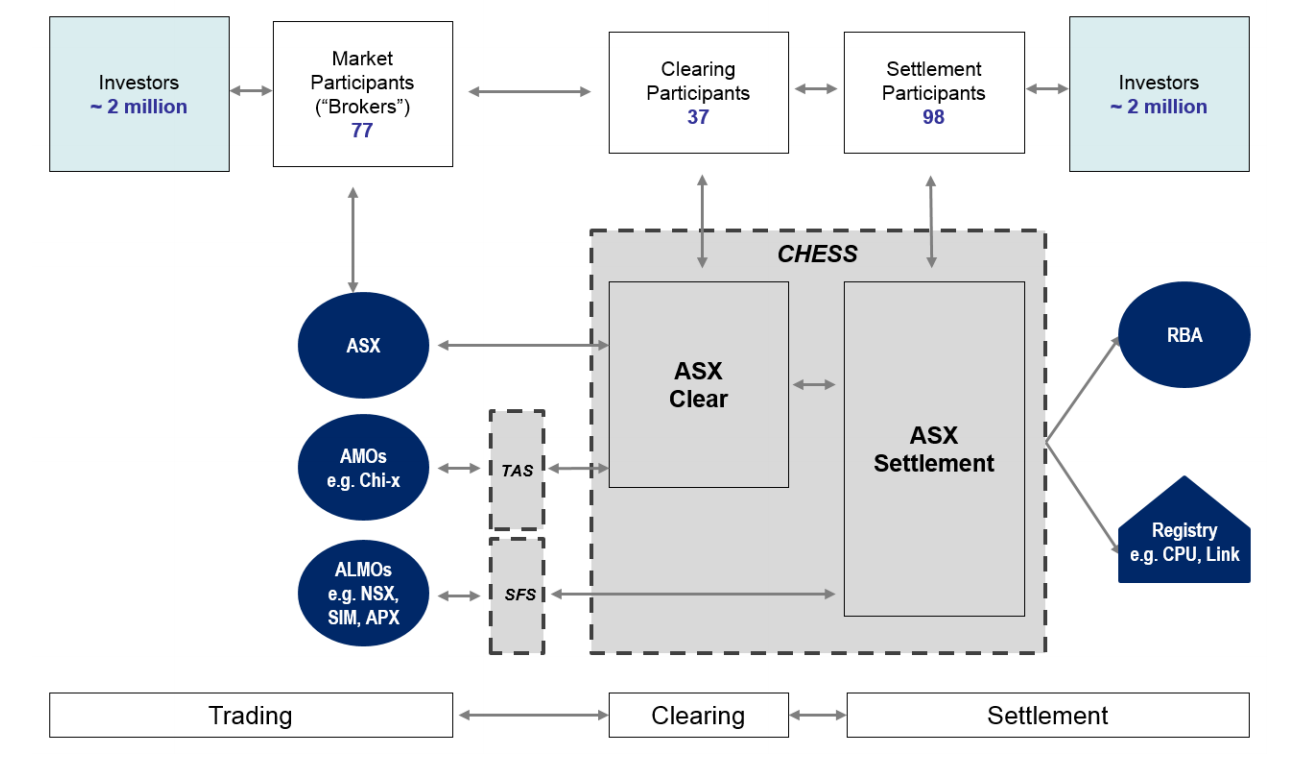 Source: ASX's Replacement of CHESS for Equity Post-Trade Services: Business Requirements (pdf)