Book a meeting with Exactpro representatives:
This year, CordaCon was held as a hybrid event. A diverse group of CorDapp builders and participants, industry thought leaders, partners, regulators and tech visionaries from all over the globe came together for 100+ sessions, as well as in-person and virtual networking opportunities.
The agenda featured:
the particulars of building multi-party apps and networks,
latest updates on the latest use cases,
a chance to explore new offerings like R3 Sandbox for Digital Currencies, SDKs and toolkits, Managed Services, and gain inside access to R3's partner programs.
Developers got unique training and education opportunities with access to technical leaders in a number of dev-focused sessions.
As part of Day 1 of the conference, on 28 September, Alexey Zverev, CEO and co-founder, Exactpro, gave a talk titled "Is Your Dapp Regulatory Grade?". Watch the recording of Alexey's speech via the link below.
Read more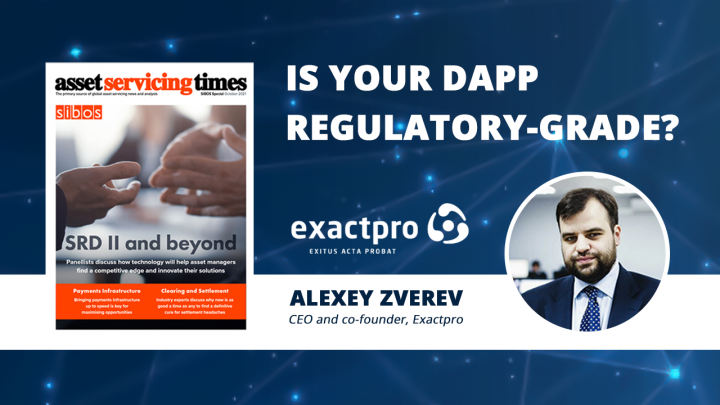 Distributed ledger technology (DLT) innovation is an important trend shaping the financial services industry. It's no surprise that under the pressure of ongoing overall digital transformation, many financial institutions are keen to adopt DLT in development of their platforms. Read more