Date: 11 - 14 October 2021
Location: Online
Source: www.sibos.com
Book a meeting with Exactpro representatives:
Sibos, the world's premier financial services event, once again featured a packed conference agenda of expert speaker insights, fascinating debate and big-picture outlooks from some of the most impressive names in finance. This year's SIBOS addressed how the financial ecosystem can reassess, re-energise and recharge.
The 2021 programme had new formats, sessions and functionality, offering a wide range of diverse and immersive sessions under the umbrella of four key themes:
Digital Acceleration
Managing risks
Transformative Technology
Banking on change
Exactpro is proud to sponsor the Women of Sibos networking event this year, commemorating the industry's female leaders, celebrating their role throughout history and highlighting the female leaders' voices of today. This year's event will feature an interview session with Natalie Chung Sum Yue, Climate Action Environmentalist and Social Innovator, and Kristy Duncan, Founder and CEO of Women in Payments, discussing the importance of diversity and the role of women in driving change for good. The session will run twice, with the second run allowing for a live Q&A. Please see the schedule below:
Tuesday, 12 October, 10:30 CET – Interview
Tuesday, 12 October, 18:30 CET/12:30 EDT – Interview and live Q&A with a virtual front row
As part of the event's Sibos TV segment (Episode 10), Alyona Lamash, Head of the Risk Management Practice, Exactpro, will participate in a joint interview on Tuesday, 12 October, at 18:00 CET/12:00 EDT, to discuss the issue of women perceived as a group instead of individuals, as well as the importance of creating the right context for professional growth.
Exactpro has been a part of the Sibos community since 2016 and looks forward to taking part in Sibos 2021. The delegates will have a chance to meet Exactpro executives at the booth in the exhibition area and watch interactive demo sessions about th2.
Exactpro will also be a part of the Sibos Discover Perfect Pitch competition that gives fintechs from around the globe the opportunity to showcase their products and services to the Sibos community.


Read more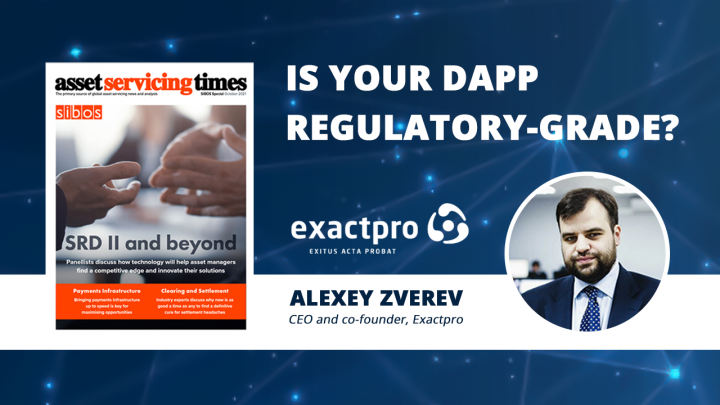 Distributed ledger technology (DLT) innovation is an important trend shaping the financial services industry. It's no surprise that under the pressure of ongoing overall digital transformation, many financial institutions are keen to adopt DLT in development of their platforms. Read more