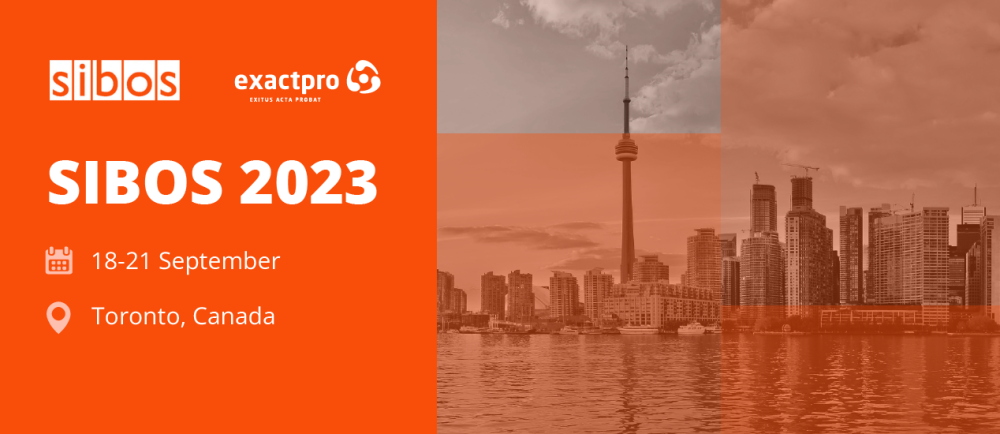 Date: 18 - 21 September 2023
Location: The Metro Toronto Convention Centre, Toronto, Canada See the map
Source: sibos.com
Book a meeting with Exactpro representatives:
Sibos, the world's premier financial services event, will return on 18–21 September to Toronto, Canada. The conference will bring together thought leaders from across the financial ecosystem, addressing the most impactful trends in financial technology.
This year's theme – Collaborative Finance in a Fragmented World – will focus on such issues as ESG standardisation, cross-border payments, post-trade data, digital currencies and advancing technologies such as AI and machine learning.
Exactpro will be attending the conference for the 8th consecutive year. Find out more details about our participation in Sibos 2022 via this link.
Check out our SIBOS 2022 highlights
This year's delegates will have a chance to meet Exactpro executives at Booth E31 in the exhibition area and find out more about how we can help you drive improvements across your infrastructure and increase its operational resilience using our AI Testing technology.
Exactpro is an independent software testing services provider for financial sector organisations. Our clients are exchanges, post-trade platform operators, and banks across 20 countries. Our area of expertise comprises protocol-based testing of matching engines, market data, market surveillance, clearing and settlement systems, improving scalability, latency and operational resiliency. Exactpro is involved in a variety of transformation programmes related to large-scale cloud and DLT implementations at systemically important organisations.
Founded in 2009, the Exactpro Group is headquartered in the UK and operates delivery centres in Georgia, Sri Lanka, Armenia, Lithuania and the UK and representative offices in the US, Canada, Italy and Australia. Exactpro employs over 650 staff.
Our tools and approaches leverage artificial intelligence (AI) to help harness the power of big data analytics to automate the generation of test ideas and the interpretation of test results. We also use smart execution capabilities to support full-scale AI adoption at Exactpro and within our client firms.
Learn more about Sibos 2023 and register your participation via the event's website.