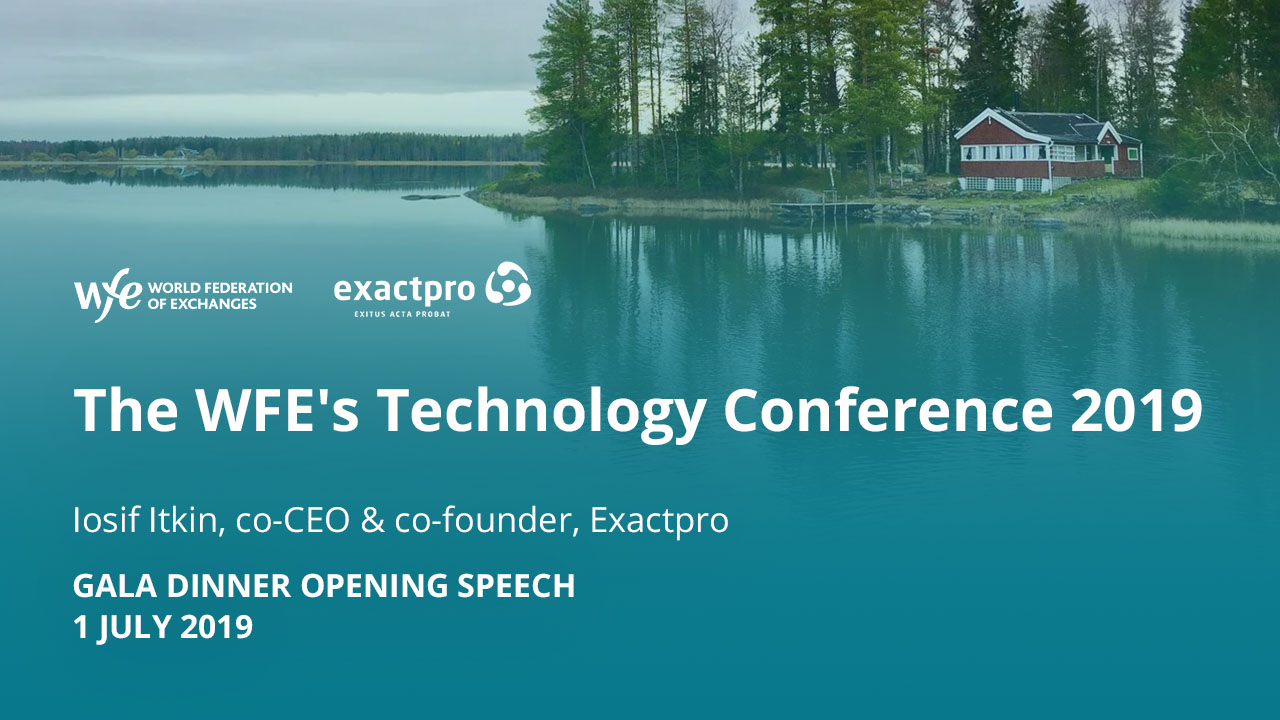 The WFE's Technology Conference 2019 took place on 30 June - 2 July in Umeå, Sweden. Iosif Itkin, co-CEO & co-founder, Exactpro opened the Gala Dinner sharing the key takeaway from doing software testing for many exchanges and clearing houses.

The WFE's Technology Conference 2019 opened its doors on 30 June and was held in partnership with Umeå University, Nasdaq and Exactpro. The biannual event highlights the latest technology changes that shape the financial industry and, concurrently, the society. The event program featured discussions and keynotes on the latest advancements in such technologies as machine learning and artificial intelligence, blockchain and cryptocurrencies, also touching upon the current regulatory landscape and the part that new technologies play in it.

On 1 July, Iosif Itkin, co-CEO & co-founder, Exactpro, opened the Gala Dinner with a short speech.
"We work across a wide variety of platforms. Platforms from the Past, the Present, and the Future. We support our clients who run systems that were built decades ago. We support our clients running modern low latency platforms, including those based on FPGA and Infiniband. We also support our clients designing the systems in the cloud, applying distributed ledger and machine learning technology. Exactpro has the privilege to deliver services to our partners worldwide, from Sydney to Athens, from Johannesburg to Umeå. Large-scale platforms. Small platforms. Everything in between. And the main takeaway from our work is..."

Read Iosif Itkin's full speech at The WFE's Technology Conference 2019 at linkedin.com/pulse/wfe-technology-conference-what-main-takeaway-from-doing-iosif-itkin/.