Exactpro is incorporated in the UK, with full operational and beneficiary control for it in the EU and UK, and subsidiaries in the USA, Georgia, Sri Lanka, Lithuania, Armenia, Italy and Canada. The business has passed through an in-depth transformation, remained fully operational and delivered 19.35% year-on-year revenue growth in 8m 2022 YTD.
Exactpro is against the tragic war unleashed in Ukraine and strongly condemns the aggression. In February, we put in place a plan to undertake a massive staff relocation programme, cease all operations in Russia and, at the same time, ensure that the project delivery capacity for our clients is maintained at the highest level. To date, we have relocated 250 specialists and their families and are in the process of helping 30 more in the near future. On 25 August 2022, Exactpro completed the divestment from its subsidiary in the country and sold it to the local administrative team that is now winding down the legal entity and selling the remaining equipment.
The updated organisational structure of the Exactpro Group is available below.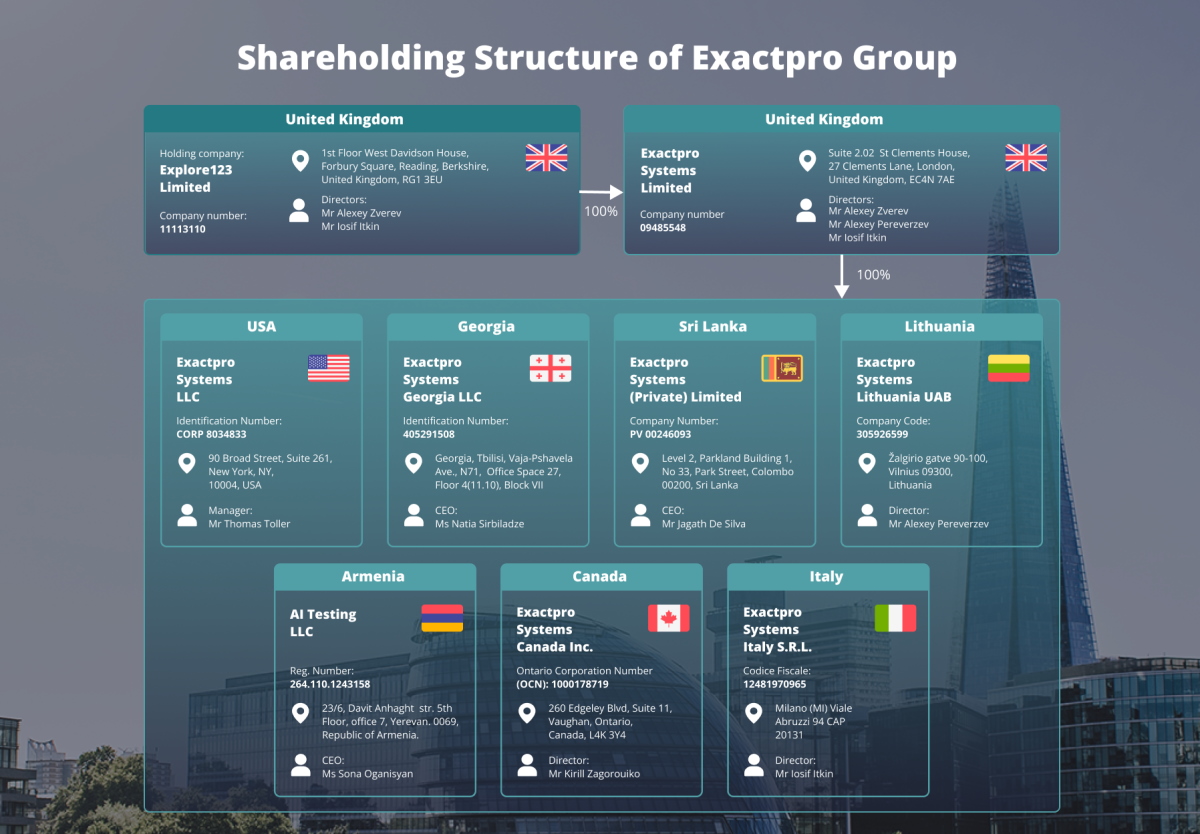 The Group's key delivery centres in Georgia, Sri Lanka, UK, Armenia and Lithuania are now fully equipped and staffed to support all new and existing projects. 60% of our delivery capability is currently in Tbilisi, with Colombo being our second largest delivery location. We expect that, at the end of 2022, the transformed Exactpro Group is going to have circa 600 staff.
The relocation programme, as well as our office expansion projects in Tbilisi and Colombo, have resulted in a substantial additional cost of doing business. We had to temporarily put on the back burner a number of internal software development projects and growth-related activities and also cut administrative expenses. The management is also reviewing a possibility of branching some of our divisions into separate joint ventures with our clients.
We hope to see you on 27-29 September at the World Federation of Exchanges (WFE) General Assembly & Annual Meeting in Malta and on 10-13 October at SIBOS in Amsterdam. We will present the latest work in the DLT, CBDC, AI and Payments areas undertaken by Exactpro.
The management team thanks all Exactpro clients and partners for their unwavering trust and support, sees no barriers to our continued successful collaboration and looks forward to it.
Click here to see full year 2022 figures updated on 18 April 2023.