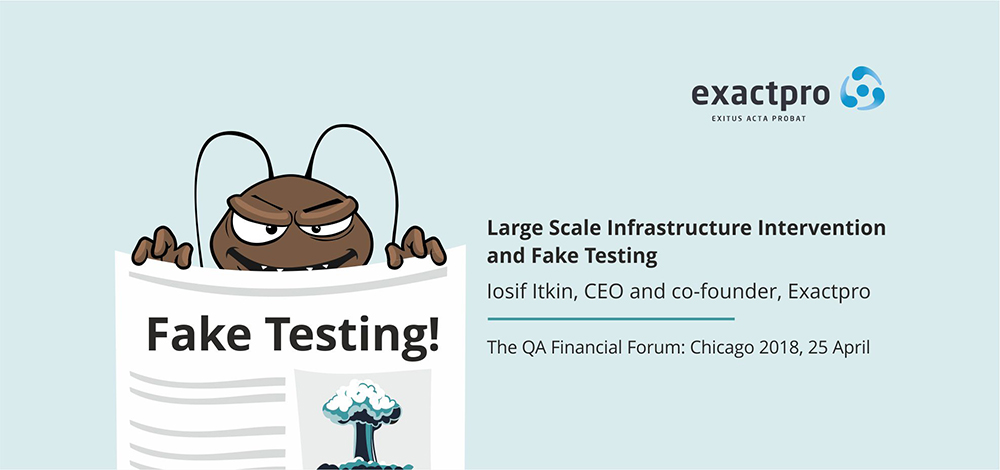 On 25 April, Exactpro will participate in the QA Financial Forum: Chicago 2018. Iosif Itkin, Exactpro's co-Founder and co-CEO, will give a talk and Exactpro representatives will be available at the exhibition area stand throughout the event.
Iosif Itkin is scheduled to talk on Large Scale Infrastructure Intervention and Fake Testing at the upcoming QA Financial Forum:
"We live in a world of complex and interconnected systems. The software development life cycle goes full steam ahead through agile transformations. Large technology infrastructures seek better ways of assuring quality, scalability and reliability for their platforms. The path is frequently obstructed by the spread of Fake Testing. Many project teams are vulnerable to this new danger." In his talk, Iosif Itkin will share his thoughts on how to deal with the challenge in a post-truth world of eroding trust.
Other presentation topics will include:
From Deming to DevOps, a QA Transformation Journey
A DevOps Journey: Reducing Friction in the Enterprise
Reinventing QA in the age of Agile, DevOps, Machine Learning and Big Data
Software Security and Testing: A Holistic Approach to Risk Management in the SDLC
Quality Assurance, Testing and Governance Stages for Machine learning Algorithms
The panel discussion topics will include:
Financial firms and the Road to Continuous Delivery: Overcoming the Key Challenges
Embedding Regulatory Compliance into Software Development
Managing Software Risk: Vendor Risk Management and Benchmarking Quality
Redefining Testing in the DevOps World
Testing for Blockchain, Smart Contracts and Distributed Ledgers
---
About Exactpro
Exactpro specializes in quality assurance services and related software development with focus on test automation for securities data distribution, trading systems, risk management, market surveillance and post-trade infrastructures. Exactpro uses bespoke tools and methods for every challenge and do whatever it takes to help our clients. For more information on Exactpro, please visit https://exactpro.com/
About QA Financial Forum
It is the first time ever that the QA Financial Forum is taking place in the Windy City. The QA Financial Forum is the leading forum for professionals working in quality assurance and testing for software at banks, insurance and asset management companies, discussing the most pertinent issues of today under the Chatham House Rule. It is a versatile multi-cultural platform where Directors, QA Heads and Senior Software Developers share each firm's unique experience and IT change management practices. Please, see the QA Financial Forum: Chicago 2018 website for more information.