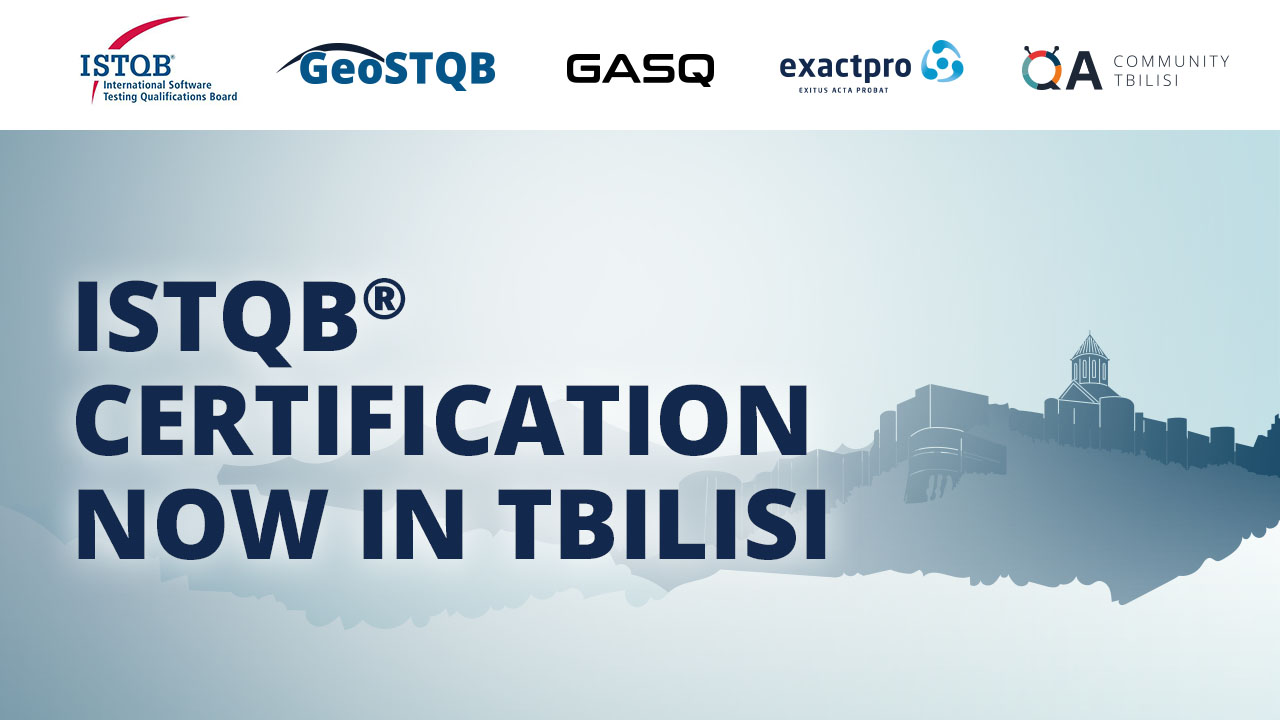 Exactpro and GeoSTQB — an ISTQB Local Member Board created by the QA Community in Tbilisi, Georgia in October last year — have announced their partnership with GASQ, a recognized international exam provider. The programs available include a variety of ISTQB® certifications, the de facto standard in accrediting software testing competences.
Since its inception in the fall of 2019, GeoSTQB has aimed to promote the importance of professional excellence among software testers and certification of IT professionals in Georgia according to the highest international standards. As a result of combined efforts between GeoSTQB and Exactpro, software testing professionals in Georgia can now get certified with GASQ — Global Association for Software Quality — a leading association in the software quality industry. The two companies are now a part of the GASQ extensive international network currently spanning over 60 national markets and including more than 250 cooperation partners.
The list of programs made available at the accredited exam centre in Tbilisi spans multiple levels of proficiency and skills, and includes the following certifications:
ISTQB® Certified Tester Foundation Level
ISTQB® Certified Tester Agile Tester
ISTQB® Certified Tester Automotive Software Tester, Model-based Tester, Usability Testing
ISTQB® Certified Tester CORE Advanced Level
ISTQB® Certified Tester Specialist Advanced Level
A4Q Selenium Tester
IQBBA Certified Foundation Level Business Analyst
"We are delighted that software testing professionals in Georgia are now able to certify their skills at the international level. This is a big step towards Georgian specialists being more competitive on the global arena", says Natia Sirbiladze, GeoSTQB President and co-founder.
"We are honored to have the opportunity to expand into Georgia and trailblaze software testing professionals certification there. We work in various disciplines of the software development and testing process and are thrilled to be able to share our expertise", says Werner Henschelchen, CEO of GASQ.
If you are willing to schedule an exam with GASQ in Tbilisi, please visit the GASQ official website.
If you would like to learn more about software testing certification in Tbilisi or have a group exam scheduled, please contact GeoSTQB via info@geostqb.ge or by calling +995551157791.
The address of the GASQ certification centre in Tbilisi is Office 23, Block 3, Floor 4, 71 Vazha-Pshavela, Tbilisi, Georgia.
About GASQ
GASQ was founded by experts from Europe, Asia and America as an independent, international non-profit association aiming to advocate and promote software quality in research, teaching and industry. Thanks to its globally recognized expertise and leading certification schemes, GASQ yearly certifies over 20.000 people in Europe, Asia, North and South America, Australia and Africa in 10 different languages.
About GeoSTQB
GeoSTQB was established in October 2019 and consists of active members of QA Community Tbilisi. The list of board members includes Tinatin Tsirekidze, Lela Gabelaia, Dato Lobjanidze, Nino Aslatashvili, Ana Amiranashvili, Marine Mamulia, Natia Sirbiladze, Papuna Gagnidze, Tamar Baratashvili.
About Exactpro
Exactpro specializes in quality assurance services and related software development with a focus on test automation for financial market infrastructures worldwide. Exactpro tools apply a variety of data analysis and machine learning techniques to improve the resilience and efficiency of automated functional testing executed under load. Learn more about Exactpro at https://exactpro.com/.