JackFish - An Efficient Open-Source GUI Testing Automation Solution
Performs automated functional testing
Produces simple interactive reports
Performs batch testing
Emulates user behaviour
Uses flexible, powerful and comprehensive script language
An open-source test tool (GitHub download here)
About JackFish
JackFish is a multi-platform open-source tool which is specially designed for automated functional testing of Web/Win/Swing GUI applications. It is easily integrated with the Exactpro tool suite.
JackFish expedites test sprints via its ability to launch and processes batches of test scripts via command line/GUIs. Embedded JackFish Wizards facilitate user experience by automating routine operations. The logic of searching for GUI elements is conveniently isolated from the test scripts.
Is written in Java via JavaFX for working on Linux, Windows, Mac OS
Works with different data formats (csv, xml, etc.)
Works with clients' databases (for reconciliation requests)
Automates routine operations via Wizards
Optimizes testing with overnight batch suites
Easily integrates with the other company tools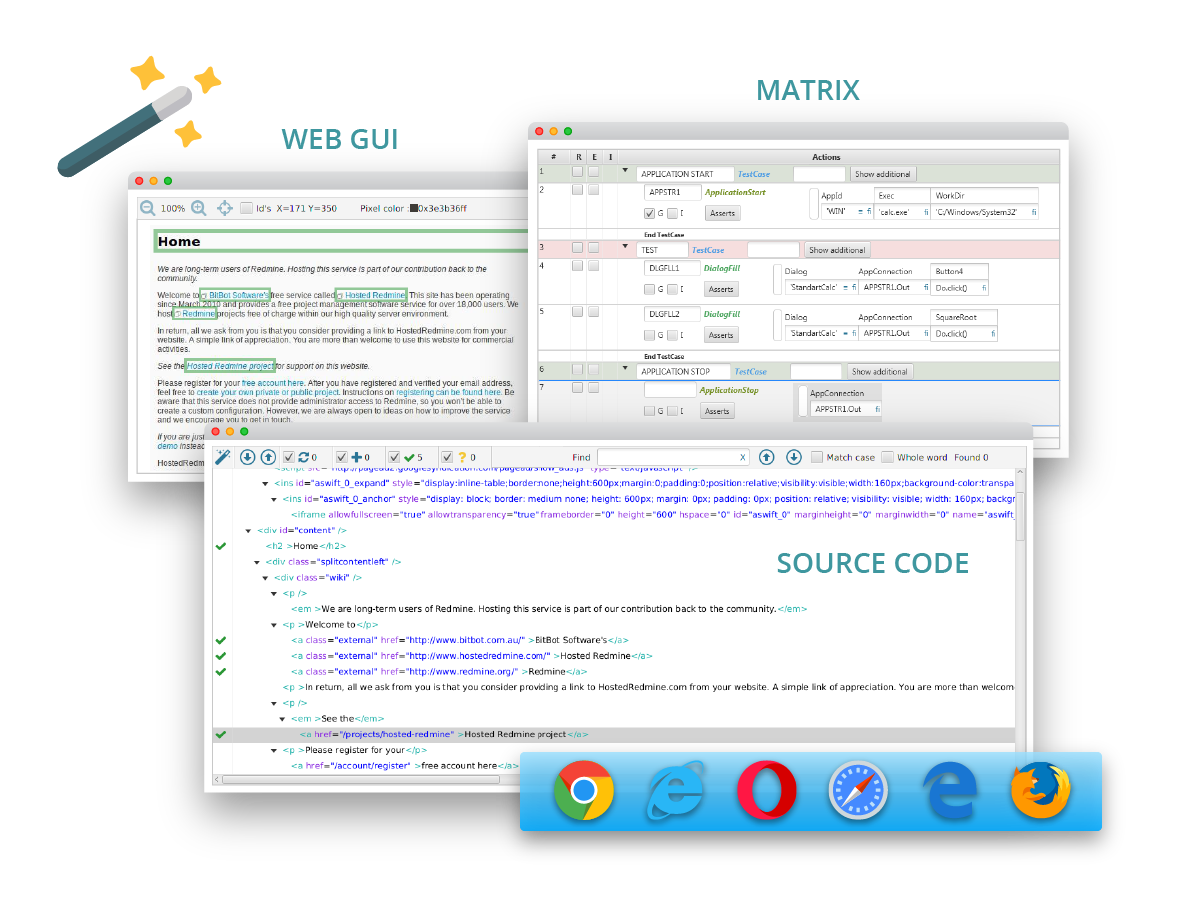 JackFish Features
The logic of searching for GUI elements is isolated from test scripts
Inbuilt GIT client for managing project files
Parts of test scripts can be used as libraries
A universal regression library is available
A set of inbuilt editors, matrices and dictionaries is available for in-app configuration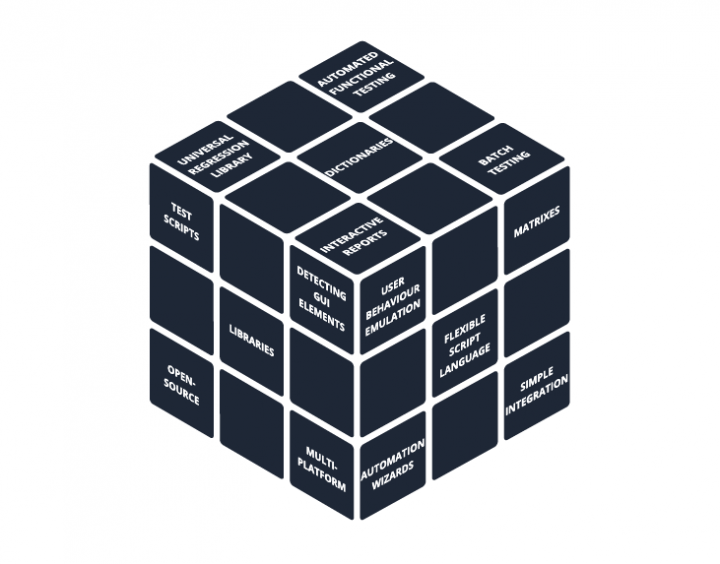 Test Automation
JackFish is equipped with a universal regression library applicable for various business contexts. The library optimises testing time by allowing for scheduled test script batch launches and by storing the results in a database.
The most frequently used parts of test scripts for further use as libraries, thus slashing the test script size to the minimum and allowing for easier maintenance.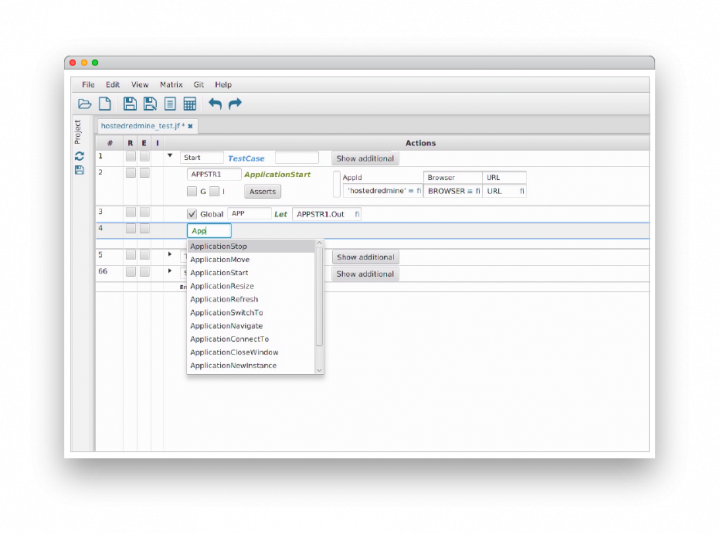 Test Script
JackFish scripts contain a set of actions and parameters for them. Each action performs a specific operation, like visual controls managing, database connection, file reading, results checking, etc. JackFish ensures complete test coverage due to a wide range of functional actions (100+). This is a universal set of actions suitable for all systems under test. JackFish has a powerful and intuitive inbuilt script editor.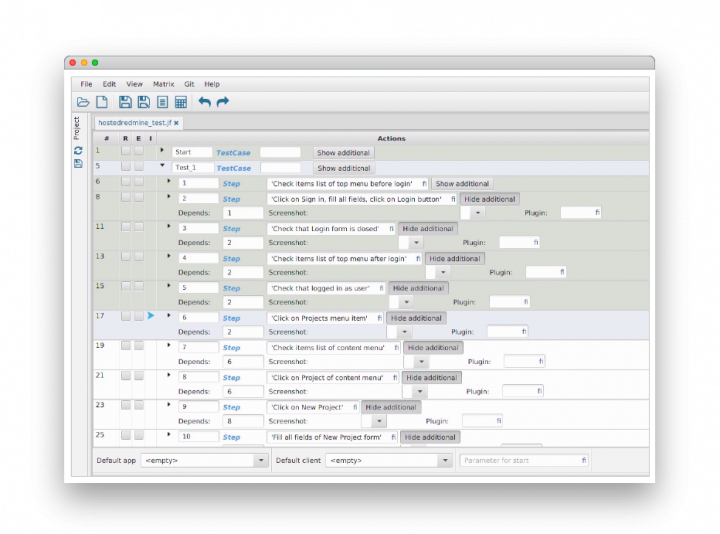 Interactive Test Execution Report
The reports contain detailed information about each action, as well as the general test run information. JackFish reports are interactive: they allow for a quick transition to a particular place in the source test script, for example, for the quickest possible fix. The reports have an attractive and clear layout.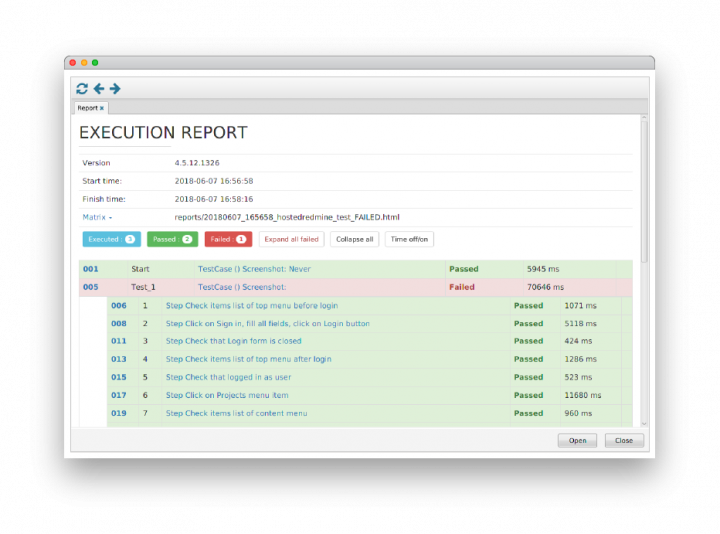 Extended Automation: Wizards System
JackFish Wizards allow to automate many processes and help maintain the customer's project by taking over an extensive range of routine activities. They simplify work with the applications under test and the process of writing test scenarios and dictionaries; wizards help maintain the customer's project, for instance, performing refactoring, and more.
Characteristics of JackFish
Testing Type

Functional and GUI testing; Load testing (high-performance concurrent execution of the same or different test scripts).

Target SUT

Web/Win/Swing application. Supports multiple browsers for web applications. Allows for multiple simultaneous connections.

SUT Interface

GUI Testing Capabilities supported via bespoke plug-ins

Protocols

Uses various protocols (FIX,ITCH, Native, etc.) via Sailfish integration

Test Scripts

A test script is a matrix which contains a set of consecutive test cases. A test case consists of actions. 100+ smart actions are available.

Platform Requirements

OS Linux, Windows or MacOS with an installed JRE 1.8 version, min 2GB of RAM and min 10GB of HDD.