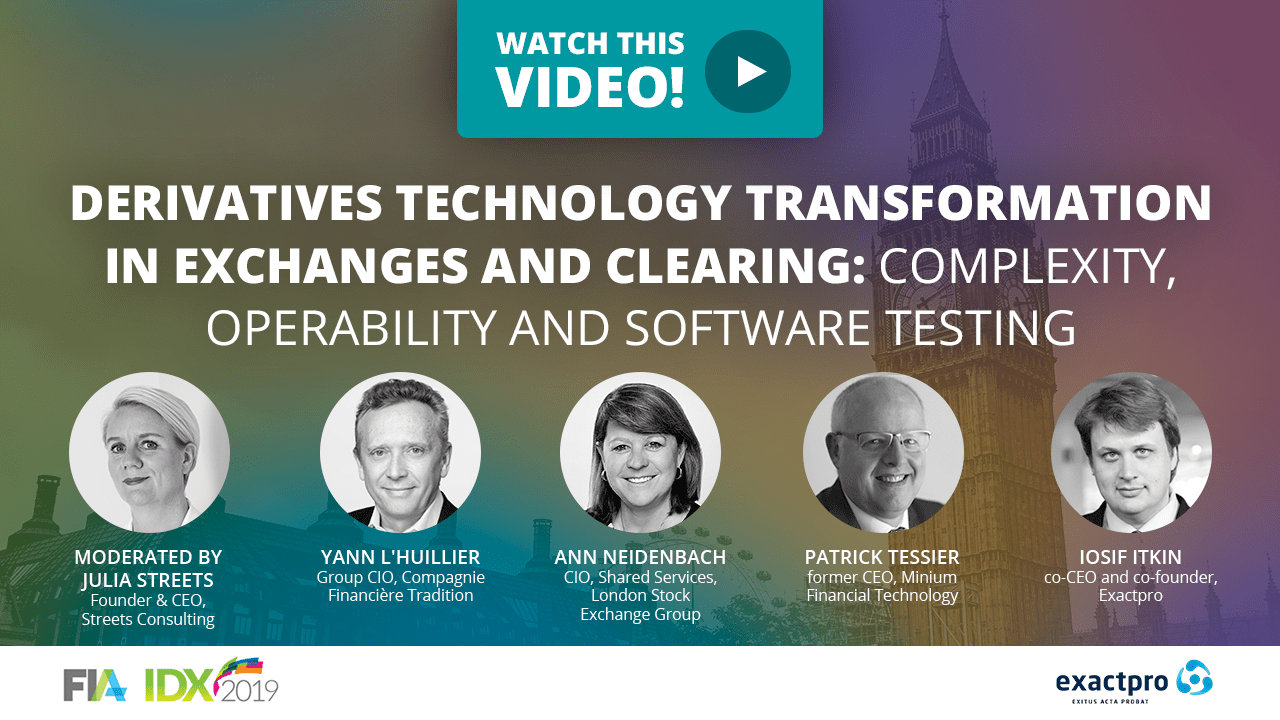 On 5 June 2019, the 12th Annual International Derivatives Expo (IDX 2019) held by FIA hosted the Derivatives Technology Transformation in Exchanges and Clearing: Complexity, Operability and Software Testing panel session featuring established industry experts. The panel was put together in partnership with Exactpro.
The leading financial industry experts got together at IDX 2019 to discuss the latest initiatives being explored among the global financial infrastructure providers. The list of panel experts included:
Julia Streets, CEO, Streets Consulting (moderator)
Ann Neidenbach, CIO, Shared Services, LSEG
Yann L'Huillier, Group CIO, Compagnie Financière Tradition
Patrick Tessier, former CEO, Minium, Cinnober Group
Julia Streets, Founder & CEO, Streets Consulting
Iosif Itkin, co-CEO & co-founder, Exactpro
During the panel session, the experts shared the latest fintech projects their companies have recently undertaken. The discussion kicks off with the state of the Cloud migration and the technological, regulatory, security and Quality Assurance issues surrounding the process. It goes on to highlight the benefits that virtualization brings in the form of improved agility, transparency, resiliency and auditability, as well as debate how far along post trade is in the cloud journey. The panelists also brainstorm on the future of DLT and emphasise the importance of Artificial Intelligence and machine learning for market surveillance and trade security in the context of Big Data. When talking about the current industry challenges, experts pinpoint shortage of talent, lack of standardization in the cleared derivatives space, and low levels of acceptance of new technologies among some regulators.
About IDX
Every year, IDX brings up the most important developments affecting the cleared derivatives markets as well as ways to bridge the gap between industry and regulators. IDX 2019 was the 12th Annual International Derivatives Expo, aiming to bring together influencers from leading experts in the industry to fintech startups and key regulators. The program featured in-depth sessions complemented by an exhibit featuring over 40 firms. Some sessions also tackled the issues arising from the emergence of new technologies and new asset classes and the ways to benefit from this change.
About Exactpro
Exactpro specializes in quality assurance services and related software development with a focus on test automation for financial market infrastructures worldwide. Exactpro tools apply a variety of data analysis and machine learning techniques to improve the resilience and efficiency of automated functional testing executed under load. In May 2015 - January 2018, Exactpro was part of the Technology Services division of the London Stock Exchange Group (LSEG). In January 2018, the founders of Exactpro completed a management buyout from LSEG. Learn more at https://exactpro.com/.