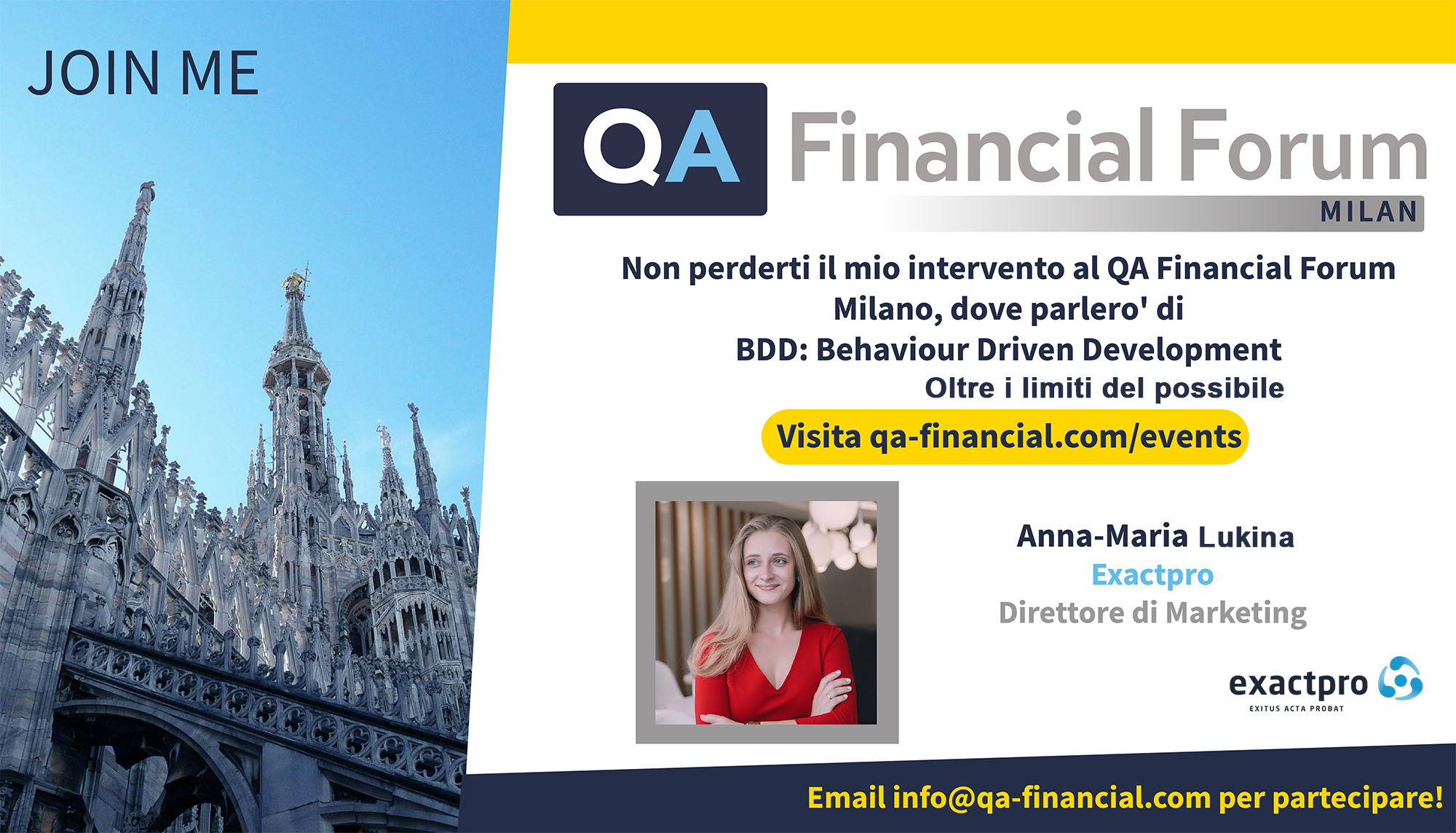 The QA Financial Forum: Milan 2019 is taking place on 23 January at the Excelsior Hotel Gallia. Anna-Maria Lukina, Exactpro Marketing Director, will speak on Behaviour-driven Development: The Outer Limits.
The QA Financial Forum events are designed to promote the sharing of information between quality assurance and software architecture managers of financial companies and other stakeholders in IT, whilst respecting the confidentiality of the speakers, following the principles of the Chatham House rule.
The QA Financial Forum: Milan is one of the leading fintech conferences in Italy. The event focuses on the latest achievements in software risk management and automation of software testing. The predominant theme of the Milan event will be Quality Assurance for the entire Software Development Life Cycle (SDLC).
The topics under discussion will feature:
Technologies for Automation & AI
DevOps & CI/CD
Value Stream Management
Test Data Management
Regulatory Compliance
App Security & DevSecOps
Testing and quality assurance of Blockchain platforms
Check out the full list of topics on the agenda.
The official language of the event is Italian.
About QA Financial Forum
The QA Financial Forum is the leading forum for professionals working in quality assurance and testing for software at banks, insurance and asset management companies.
About Exactpro
Exactpro is a specialist firm currently employing over 560 staff focused on functional and non-functional testing and software development of systems that process wholesale financial products across many asset classes, such as trading and clearing systems, risk management, market surveillance, securities data distribution and Post-Trade infrastructures. These services are offered to exchanges, investment banks, brokers, technology firms and other financial sector organizations worldwide. Exactpro is an independent company owned by its management team following the recent buyout from the London Stock Exchange Group. Exactpro website: https://exactpro.com.