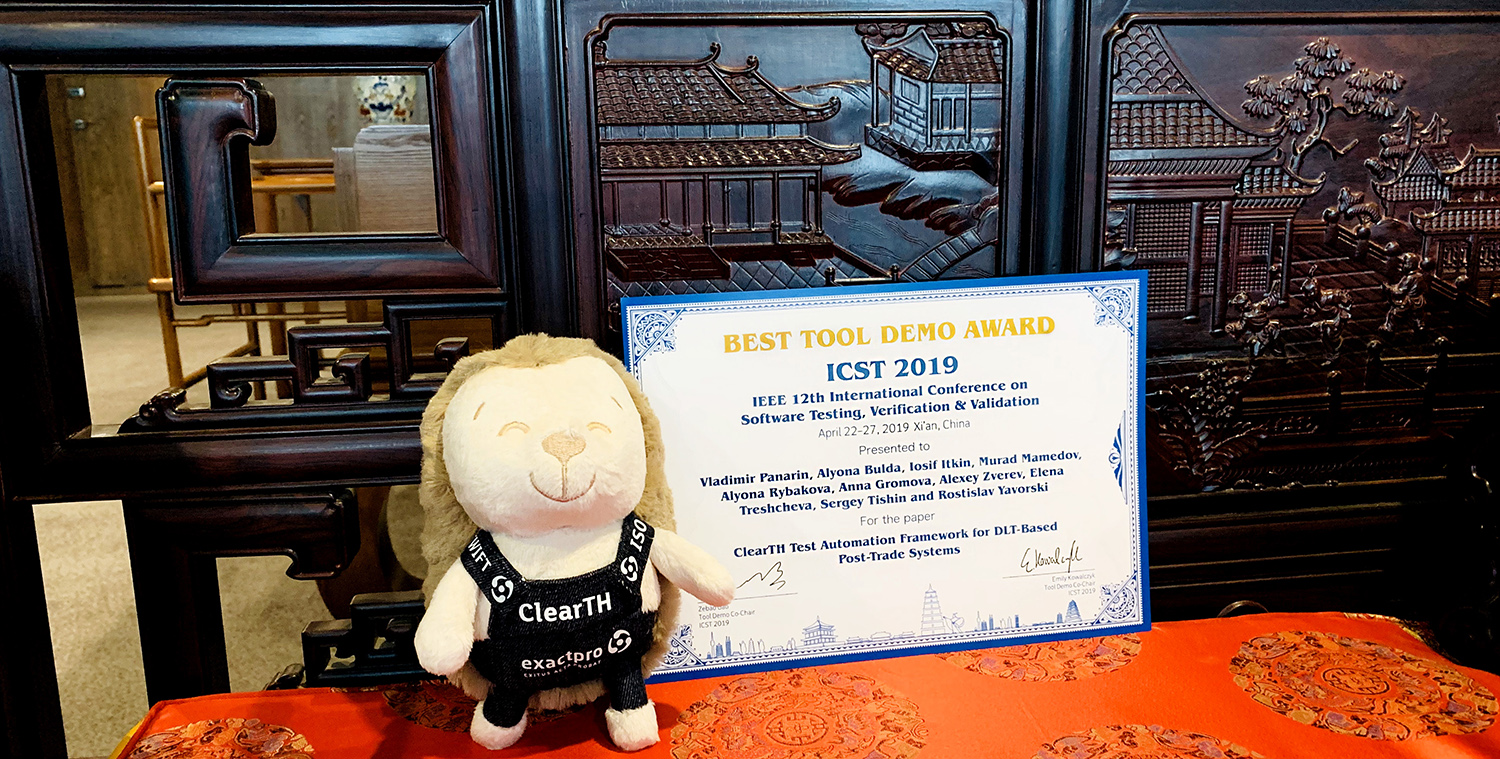 Exactpro ClearTH Test Automation Framework for DLT-Based Post-Trade Systems research based on R3 Corda technology has won the Best Tool Demo Award at the 12th International Conference on Software Testing, Verification and Validation (ICST 2019) on 25 April.

ICST 2019 is taking place in Xi'an, China on 22-27 April 2019. The conference features keynote addresses from renowned academia and industry scientists and runs in several streams: Research, Industry, Testing Tool, Demo and Poster Tracks, a PhD symposium as well as numerous workshops and co-located events.
Exactpro's ClearTH Test Automation Framework for DLT-Based Post-Trade Systems demo based on R3 Corda technology was presented to the participants on 24 April 2019 by Iosif Itkin, CEO and co-founder, and Alyona Bulda, VP, Senior Project Manager. The principles of the proposed approach were described in a paper by a team of Exactpro Quality Assurance specialists and researchers that included: Vladimir Panarin, Alyona Bulda, Iosif Itkin, Murad Mamedov, Alyona Rybakova, Anna Gromova, Alexey Zverev, Elena Treshcheva, Sergey Tishin and Rostislav Yavorski. The paper reviews a test automation framework aimed at testing DLT-based financial software for post trade using the company's signature ClearTH end-to-end software testing tool.
Read more in Exactpro's latest white paper — Test Automation Solution for DLT-based Post-trade Infrastructures.
The conference proceedings will be submitted for publication in IEEE Xplore.

About Exactpro
Exactpro specializes in quality assurance services and related software development with focus on test automation for financial market infrastructures worldwide. Exactpro tools apply a variety of data analysis and machine learning techniques to improve the resilience and efficiency of automated functional testing executed under load. In May 2015 - January 2018, Exactpro was part of the Technology Services division of the London Stock Exchange Group (LSEG). In January 2018, the founders of Exactpro completed a management buyout from LSEG.