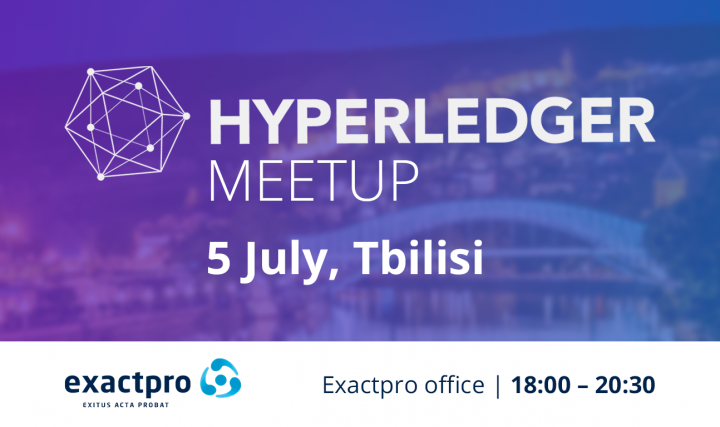 The first Hyperledger Meetup organised in partnership with Exactpro will take place on 5 July 2019 in Tbilisi.
Hyperledger Meetup is an initiative aiming to encourage cross-industry application of blockchain technologies in an informal environment. Everyone interested in blockchain — beginners and advanced users alike — can talk about state-of-the-art technologies and share their insights and experience.
The first Hyperledger Meetup in Tbilisi is being put together by Exactpro — General Member of the Hyperledger community — and will be held on the premises of the Exactpro office in Georgia at 71 Vazha Pshavela Avenue, block #3, floor 4, Sector/Office #23, Tbilisi, Georgia, 0186.
Everyone passionate about blockchain can join the Hyperledger Meetup community on the event's official Meetup Page: https://www.meetup.com/Hyperledger-Tbilisi/
The official language of the event is English.
About Hyperledger
Hyperledger is an open source collaborative effort created to advance cross-industry blockchain technologies. It is a global collaboration hosted by The Linux Foundation and including leaders in finance, banking, Internet of Things, supply chains, manufacturing and Technology. Learn more at https://www.hyperledger.org/
About Exactpro
Exactpro specializes in quality assurance services and related software development with a focus on test automation for financial market infrastructures worldwide. Exactpro tools apply a variety of data analysis and machine learning techniques to improve the resilience and efficiency of automated functional testing executed under load. In May 2015 - January 2018, Exactpro was part of the Technology Services division of the London Stock Exchange Group (LSEG). In January 2018, the founders of Exactpro completed a management buyout from LSEG. Learn more at exactpro.com.