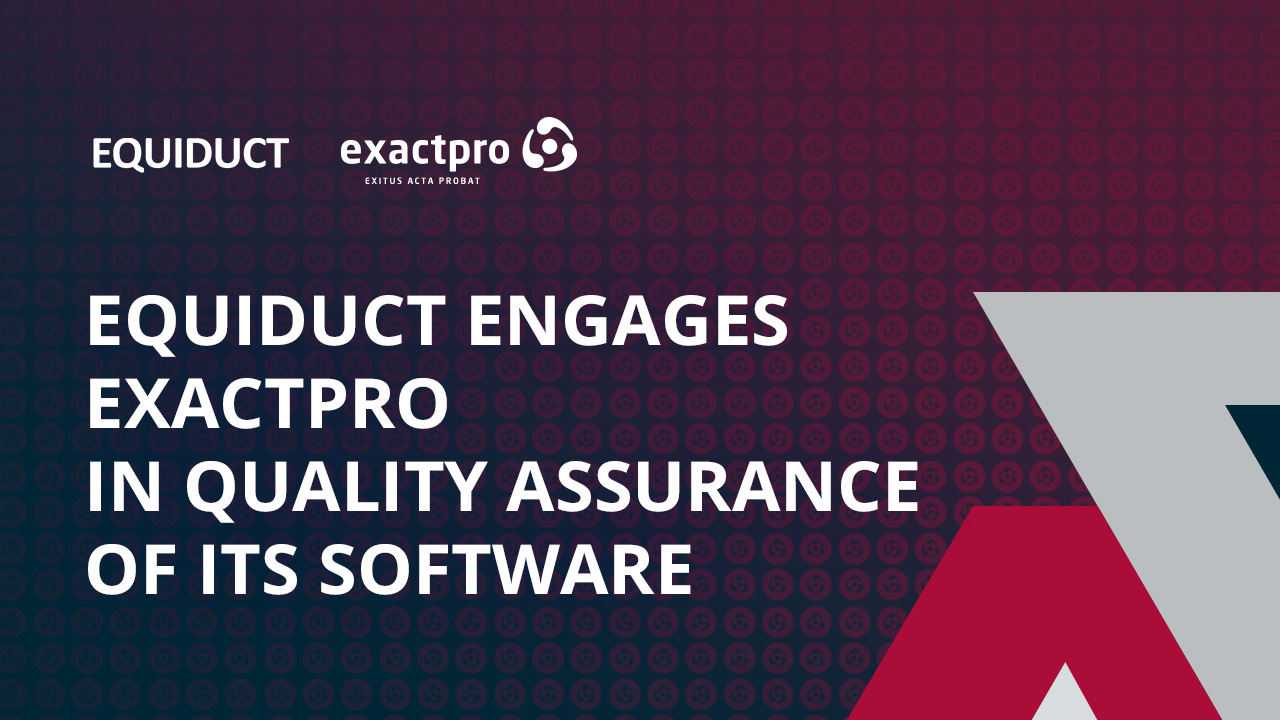 Equiduct and Exactpro Systems extend their Master Services Agreement.
London, 21 July 2020. Equiduct, the retail-focused pan-European trading venue providing innovative Best Execution solutions, and Exactpro, a specialist firm providing independent software testing of trading and clearing systems, risk management, market surveillance, securities data distribution and post-trade infrastructures, today announce that, following a successful proof-of-concept phase, Equiduct engaged Exactpro to deliver support in functional testing of its software on a long-term basis.
Prior to that, several successful Equiduct releases were tested with support from Exactpro, including the launch of Apex, Equiduct's guaranteed Best Execution trading solution with zero fee for retail brokers.
Matt Stupple, CTO of Equiduct, said: "As an Exchange known for innovation and stability, rigorous testing of new software is critical to the continued development of the platform. We have been very happy with the Equiduct-Exactpro relationship and the quality of software we have been able to deliver on time and within budget."
Iosif Itkin, Co-Founder and CEO of Exactpro, said: "We are happy to be of help to ensure, in close co-operation with the Equiduct team, that their innovative software stays competitive. Our testing for Equiduct is being successfully delivered 100% remotely from our offshore delivery centres – an ability especially important during current challenging times. We will continue to support software testing for Equiduct and hope to also leverage the powerful tools developed by Exactpro to test our clients' software around the world".
---
About Equiduct
Equiduct is an innovative, client driven pan-European trading venue enabling retail brokers and institutional clients to achieve Best Execution in the most liquid and fragmented cash equities and ETFs. Focused on providing solutions for our members in the post MiFID environment, Equiduct has developed unique products designed to revolutionise retail trading which facilitate order execution against the pan-European consolidated order book. Equiduct provides true pan- European trading across 11 markets covering 16 European headline indices.
Equiduct is a market segment of Börse Berlin, a regulated market operator under Article 44 of MiFID II. Börse Berlin is regulated by the Competent Authority Senatsverwaltung für Wirtschaft, Energie und Betriebe – Börsenaufsichtsbehörde and participation in trading is governed by German and European law.
Equiduct has published record activity during the first and second quarter of 2020. For more information on Equiduct, please visit: www.equiduct.com
About Exactpro
Exactpro is a specialist firm currently employing 590 staff focused on functional and non-functional testing and software development of systems that process wholesale financial products across many asset classes, such as trading and clearing systems, risk management, market surveillance, securities data distribution and post-trade infrastructures. These services are offered to exchanges, investment banks, brokers, technology firms and other financial sector organizations worldwide. Exactpro is an independent company owned by its management team. Learn more at exactpro.com or follow us on LinkedIn and Twitter.