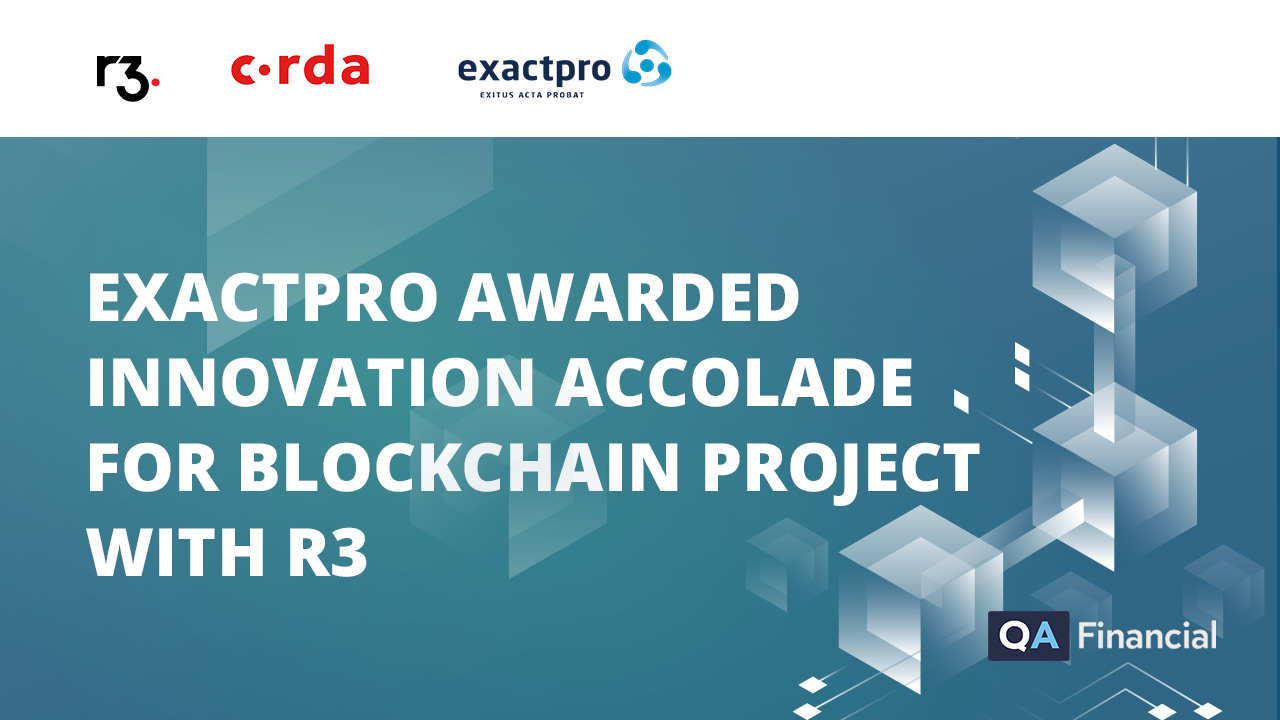 Exactpro, a leading software testing provider for financial market infrastructures, is pleased to announce the receipt of QA Financial's "Automation Technology Project of the Year: Exactpro and R3" award, in recognition of its work with R3's Corda Enterprise Distributed Ledger Technology ('DLT').
Exactpro delivers testing services underpinned by tools and proven methodologies as a result of a significant R&D investment. The project saw the extension of comprehensive functional and non-functional capabilities to meet the new and exacting testing requirements of the latest Corda Enterprise DLT release, itself forming the basis of a few significant new FMI-driven platforms.
Matthew Crabbe, CEO of QA Financial, says: "QA Financial's annual awards recognise innovation and achievement in software quality assurance in financial services. Exactpro's work with R3's distributed ledger platform is a great example of how important software testing is to the development of new financial technologies, and how automated testing technologies in particular are critical to the functioning of complex markets."
Commenting on the award, Iosif Itkin, CEO of Exactpro, says: "We are delighted to be recognized for our progress with testing in the DLT space in conjunction with R3, to help them deliver a cutting-edge, robust, and performant enterprise-grade platform for use by their growing number of production clients. Our achievements ensure that future DLT projects match or surpass the level of reliability of their legacy counterparts and bolster our status as a market leader in software testing for systemically important infrastructure service providers in the future."
"There are many challenges in testing distributed ledger platforms, including the interoperability of nodes in the network and the near infinite permutations of connections between them. It's a challenge that expands into hundreds of millions of tests, and automation is the only viable solution," added James Carlyle, CIO, Head of Production, R3.
Exactpro continues to innovate in new technologies such as artificial intelligence and blockchain, bringing state-of-the-art testing methods to FMIs implementing next generation projects.
-Ends-
---
About Exactpro
Exactpro is a specialist firm currently employing 580 staff focused on functional and non-functional testing and software development of systems that process wholesale financial products across many asset classes, such as trading and clearing systems, risk management, market surveillance, securities data distribution and post-trade infrastructures. These services are offered to exchanges, investment banks, brokers, technology firms and other financial sector organizations worldwide. Exactpro is an independent company owned by its management team. Learn more at exactpro.com or follow us on LinkedIn and Twitter @exactpro.
About R3
R3 is an enterprise blockchain software firm working with a global ecosystem of more than 350 participants across multiple industries from both the private and public sectors to develop on Corda, its open-source blockchain platform, and Corda Enterprise, a commercial version of Corda for enterprise usage.
R3's global team of over 200 professionals in 13 countries is supported by over 2,000 technology, financial, and legal experts drawn from its vibrant ecosystem.
The Corda platform is already being used in industries from financial services to healthcare, shipping, insurance and more. It records, manages and executes institutions' financial agreements in perfect synchrony with their peers, creating a world of frictionless commerce. Learn more at www.r3.com and www.corda.net.
About QA Financial
QA Financial was launched in 2015 by QA Media Ltd as an independent information source on software quality assurance in financial services and E-commerce. QA Financial runs digital and in-person conferences in major financial centres and also produces research on the marketplace for quality assurance services. For more information, see: www.qa-financial.com.
---
For further information, please contact
Michael Smith Head of Sales, Exactpro
Suite 3.02, St Clements House, 27 Clements Lane, London, UK, EC4N 7AE