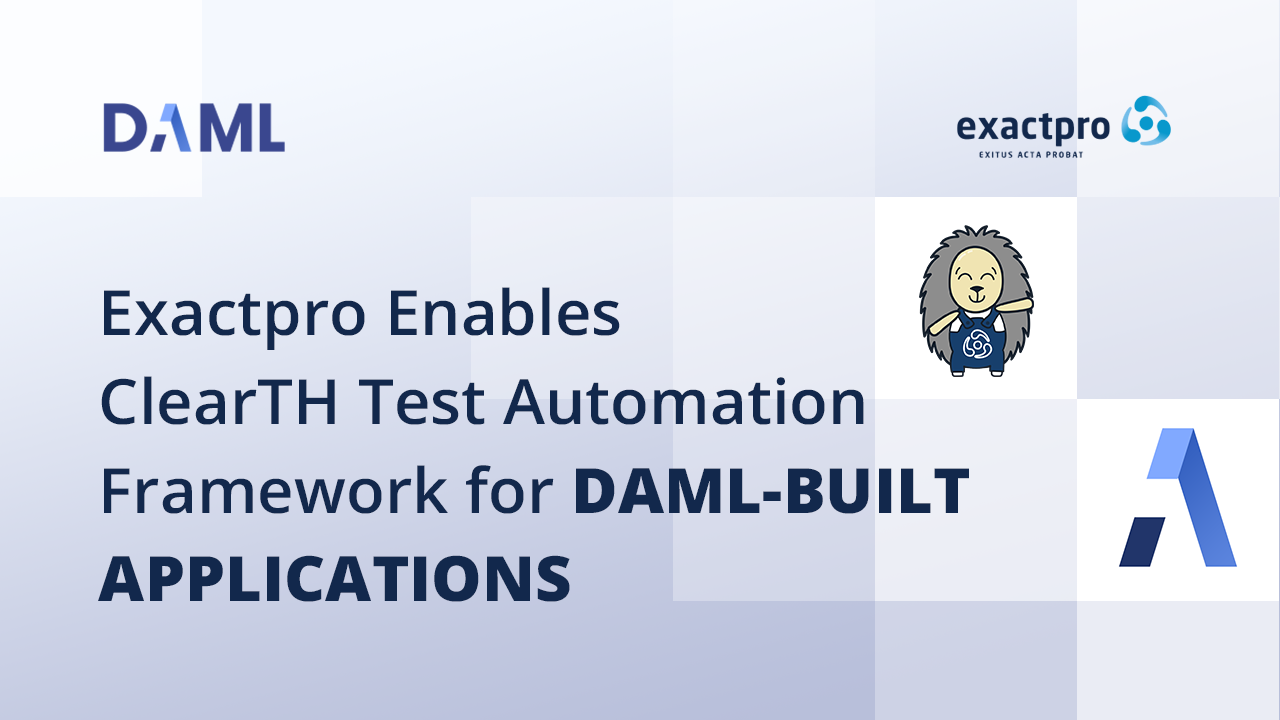 22 April 2020, London: Exactpro announced today that ClearTH, its test automation framework for post trade, is now available for software testing of Distributed Ledger Technology (DLT) applications built using DAML, the open source smart contract language created by Digital Asset. ClearTH automatically triggers different life cycle events, such as cash flow generation, trade execution, novation, termination, and simulates various potential actions of different parties involved in a business process, such as initiating transactions or accepting trades.
The continued evolution of large-scale DLT and blockchain projects underscores the need for standardization, because new technologies adopted without standards can amplify disruption for the industry. DAML provides this standardization as well as the capacity to run on top of multiple blockchains – a crucial step towards shaping the industry standards for DLT. DAML easily allows parties to mutualize their processes and secure a golden source of truth with built-in privacy. As an open source and platform-independent smart contract language, DAML enables developers to write an application once and deploy it anywhere. DAML's developer-oriented toolchain comes with an explicit security and correctness model.
Iosif Itkin, CEO and co-founder of Exactpro comments, "Expanding our testing suite's capabilities and adapting it to emerging technologies is a goal within our long-term growth strategy. We are happy to partner with Digital Asset and provide the DAML-driven community with a solution for functional testing of distributed applications built with DAML."
ClearTH automates the validation of the functional work flow of swaps implemented in the IRS & CDS Swaps Lifecycle Module application based on the Common Domain Model (CDM) developed by the International Swaps and Derivatives Association (ISDA).
In addition to the simulation, the ClearTH framework has components that perform checks of the transaction results, including account balance totals, interest rates calculations, and of whether the trade was proposed, accepted or applied. The ClearTH test automation framework enables users to monitor and control the nodes of the DLT-based post-trade system, as well as re-execute the regression library covering complex multi-step business scenarios.
"We are excited to work with Exactpro to help advance the use of DLT-based applications in post-trade markets," said Kelly Mathieson, Chief Client Experience Officer at Digital Asset. "Post-trade activities are a crucial part of the overall trade process. Any application, DLT-based ones included, needs to pass stringent testing requirements to ensure the software is mature enough to meet the demanding requirements of the post-trade processing landscape."
The ClearTH framework solves two key problems related to the resilience of mission-critical financial technology platforms: it addresses the extreme complexity of both their structure and business logic and facilitates the process of migration of these platforms to a new stack of technological solutions by providing the functionalities of validation and verification. Used on top of DAML-based applications, ClearTH provides a blockchain framework-agnostic testing inventory for DLT solutions. The framework addresses the challenges of test automation for DLT systems that are underpinned by different blockchain-inspired frameworks and enhanced with such industry standardization solutions as DAML and CDM.