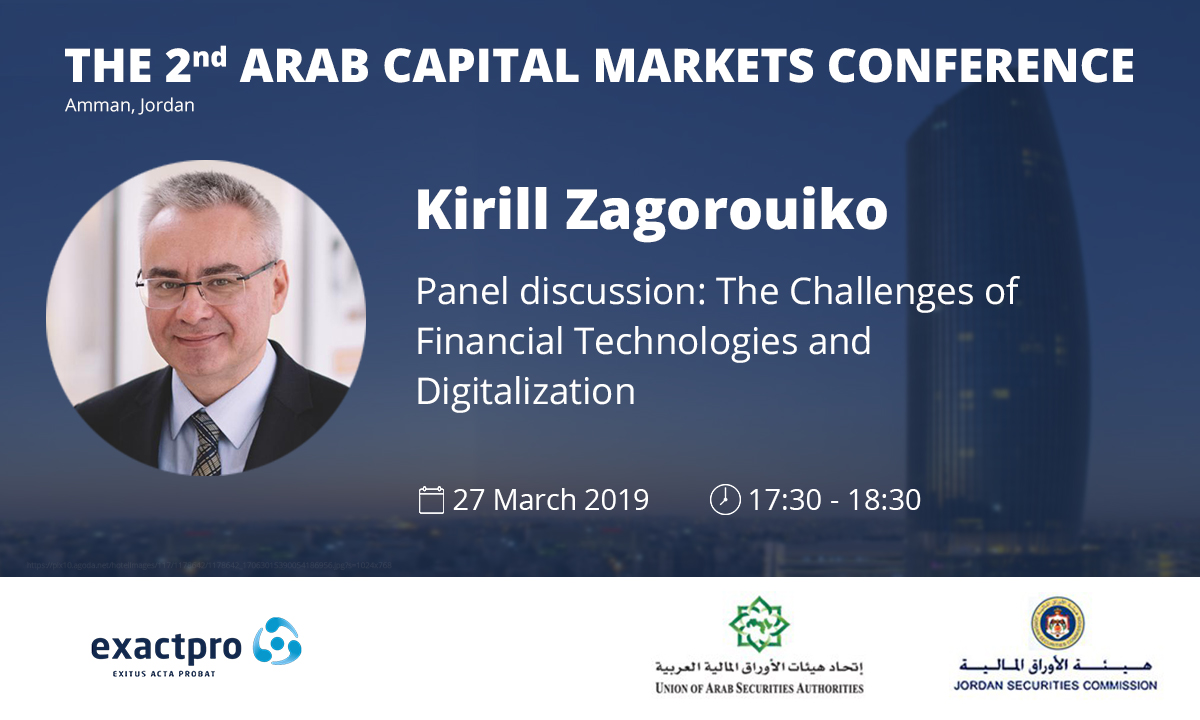 Kirill Zagorouiko, COO Exactpro, will take part in a panel session at The Second Arab Capital Markets Conference in Amman, Jordan on 27 March 2019.
The Second Arab Capital Markets Conference taking place on 27-28 March 2019 has the leading theme of Enhancing Transparency and Financial Innovation. The keynote presentations and panel discussions will focus on strategic growth and development, challenges encountered by local financial markets, enhanced disclosure and transparency, regulatory compliance and innovation, investor protection, Islamic finance and other topics. The event is expected to bring together about 300 participants.
Exactpro COO Kirill Zagorouiko will join the Challenges Of Financial Technologies And Digitalization panel discussing the following topics:
Regulatory framework: challenges facing financial market infrastructure
Proper balance between regulation and innovation
Artificial intelligence, machine learning, distributed ledger technology (DLT): regulatory perspective
Initial coin offerings (ICOs) and crypto currencies: regulatory implications
Blockchain, implementation in stock market
Cyber security and cyber resilience
Please visit our events page to book a meeting with Kirill Zagorouiko at the event!
About the Conference
The Second Arab Capital Markets Conference is being held under the patronage of His Excellency the Prime Minister of the Hashemite Kingdom of Jordan Dr. Omar Al Razzaz, the Union of Arab Securities Authorities (UASA), and in cooperation with Jordan Securities Commission (JSC). The event will take place at Fairmont Amman Hotel. Learn more at http://events.uasa.ae/Default.aspx.
About Exactpro
Exactpro is a specialist firm currently employing over 560 staff focused on functional and non-functional testing and software development of systems that process wholesale financial products across many asset classes, such as trading and clearing systems, risk management, market surveillance, securities data distribution and Post-Trade infrastructures. These services are offered to exchanges, investment banks, brokers, technology firms and other financial sector organizations worldwide. Exactpro is an independent company owned by its management team following the recent buyout from the London Stock Exchange Group. Learn more at https://exactpro.com/.