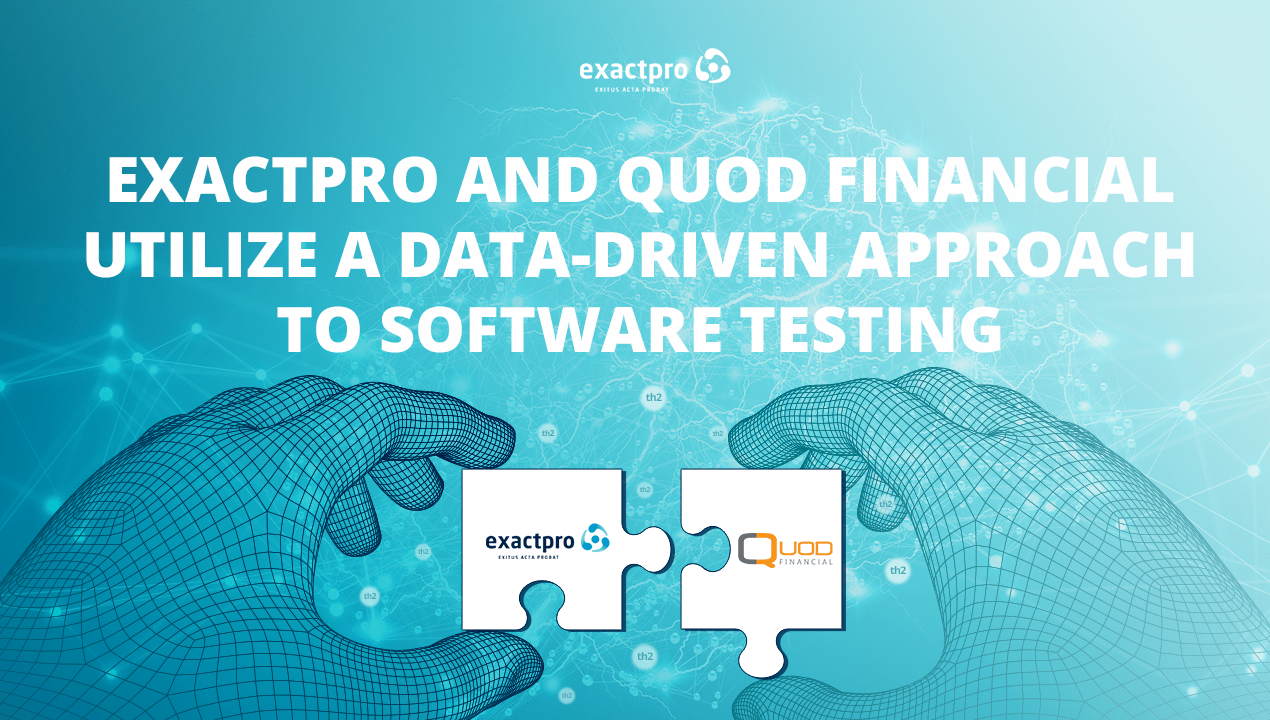 Exactpro's th2 allows Quod Financial's multi-asset trading platform to perform 4,000 real-time end-to-end tests per second, per release.
Deploy faster, upgrade more frequently, innovate with trading.
Thursday, 24 September 2020, London - Exactpro, a leading software testing provider for financial market infrastructures, and Quod Financial, an innovator in multi-asset trading and automation, announce the next phase of their collaboration by implementing machine learning driven QA testing to Quod Financial's technology, reducing the overall complexity attached with modern testing systems.
The proof of concept (PoC) was successfully completed over the summer, where Exactpro deployed th2 – a new open source microservices-based test automation platform – and, in collaboration with Quod Financial, adapted it for their test environment. Exactpro and Quod have created a set of automated test scenario templates aimed at testing business workflows in algo trading and smart order routing, while performing log analysis. This success represents the next step in Exactpro and Quod's journey in implementing the next generation of multi-layer automated testing for clients.
Through their ongoing collaboration, Exactpro will provide the Quod community with the th2 open platform, along with a resource pool to support future testing. This will offer Quod's clients an automated and integrated testing environment where real scenarios can be used for Quod trading, including algorithmic trading, market making, and smart order routing.
th2 is the next generation of an open source toolkit for "Software Development Engineers in Test" professionals who can work equally and effectively as programmers, testers and data analysts. The toolkit allows developing efficient machine-driven end-to-end libraries for testing complex distributed transaction processing systems, such as securities trading systems and exchanges, banking, brokerage, post-trade (e.g. clearing, settlement, custody), payments, etc.
th2 is a Kubernetes-driven microservices solution. It enables intelligent interaction with many network protocols, API, UI, DLT or cloud end points and provides the ability to execute sophisticated test algorithms, collect and process distributed test data (e.g. for Machine Learning), perform model-based testing and analyze the behavior of systems under test.
th2 has an open interface allowing integration with a variety of widely adopted test tools and frameworks.
Alexey Zverev, Chief Executive Officer and co-founder of Exactpro, said: "We are delighted to confirm this next phase of our collaboration with Quod Financial. The POC demonstrated the outstanding capabilities of th2, successfully testing Quod's adaptive trading technology, and we are excited to see how it can be developed further. We look forward to continuing to work with the team from Quod."
Mickael Rouillere, Chief Data Science Officer, Quod Financial, said: "With automated trading increasing in importance, all firms face the challenge of ensuring that any changes are rigorously tested in a variety of end-to-end scenarios. Trading platforms should be able to immediately give feedback to traders and users of any changes in an understandable and clear report. th2 and our collaboration with Exactpro is the first use of AI/ML-driven test automation for an execution and algo trading software provider. With these tools, our clients can upgrade more frequently, develop algos more confidently, and focus more on innovation."
---
About Exactpro
Exactpro is a leading independent provider of software testing services for mission-critical technology that underpins global financial markets. The firm is experienced with trading, clearing and settlement platforms, market surveillance systems, market data systems, collateral and risk management systems, and post trade infrastructures. Exactpro provides functional and non-functional testing services to exchanges, clearing houses, securities depositories, trade repositories, digital exchanges, central banks, brokers and investment banks worldwide. Headquartered in the UK, Exactpro employs over 600 members of staff. Learn more at exactpro.com or follow us on LinkedIn and Twitter @exactpro.
About Quod Financial
Quod Financial is the fastest growing institutional Multi-Asset Trading Platform in Europe. Having consistently prioritised pure performance, flexibility, impartiality and customisation for 15+ years, Quod has become the inevitable go-to technology partner for Buy & Sell-sides looking to automate their trading and optimise their executions within Equities, FX, Derivatives, Fixed Income and, now, Digital too.
Learn more at www.quodfinancial.com.