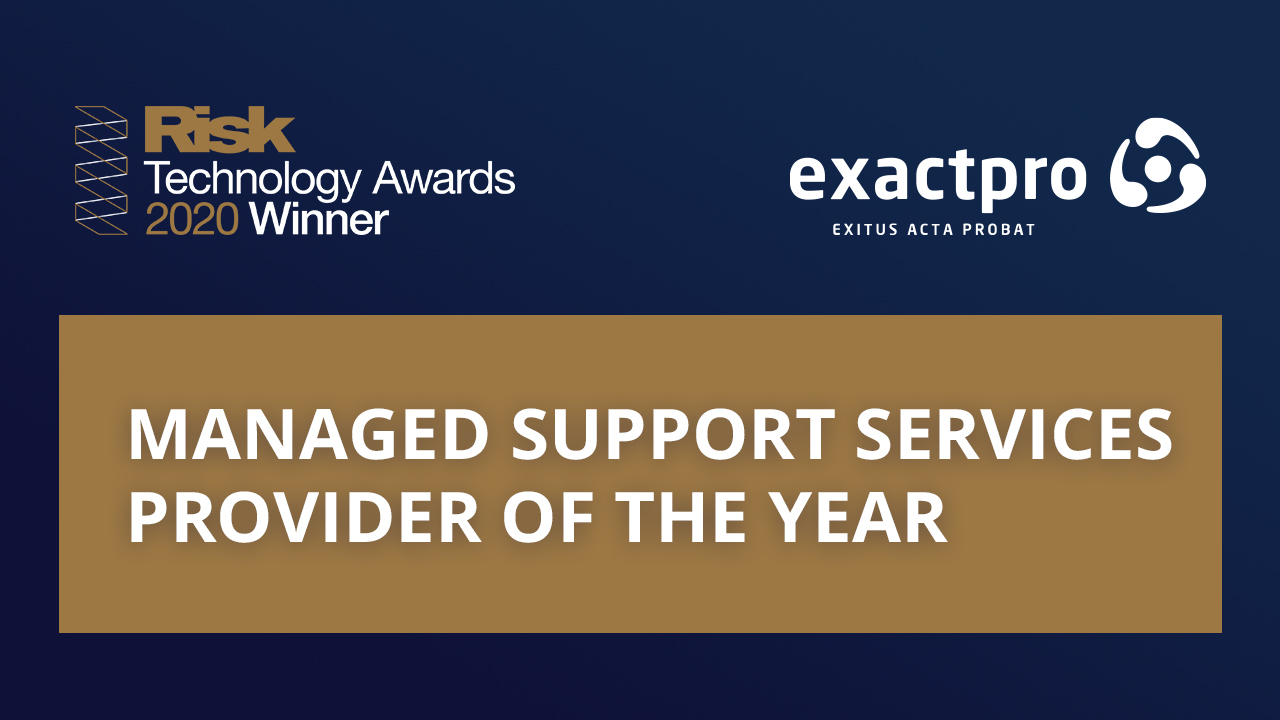 The Risk Technology Awards 2020 held by digital edition Risk.net announced their winners yesterday, 24 June. Exactpro has made the list of 20 winners.
Risk.net is the world's leading source of in-depth news and analysis on risk management, derivatives and regulation. The annual Risk Technology Awards nominations are granted after a thorough review by a panel of judges consisting of industry experts and Risk.net editorial staff. A total of 142 entries in 23 categories were received this year.
Firms entered the awards and were judged 'primarily on their achievements in the pre-coronavirus age', as the announcement states. How they leveraged their tools and adapted approaches in what came next, though, is no less, if not more, important. However, in software testing for complex distributed systems, such as banking and capital markets systems, outages and abnormal peaks in transaction load, numbers of connections or asset prices are something one should prepare for head-on as part of business-as-usual activities.
"Rather than trying to predict future circumstances, technology platforms should be stressed to their limits, with rigorous checking for monitoring and alerting mechanisms, and system failover capabilities," says Iosif Itkin, co-CEO and co-founder of Exactpro. "Instead of waiting for a catastrophe to happen, we emulate it during our tests, thus providing stakeholders with the information on the real state of the platform and its readiness for the unexpected."
"Ensuring the highest quality and reliability of our clients' technology platforms has always been Exactpro's priority", adds Iosif. "It's an honor to have our approaches recognised at such a high level."
Read more about Managed support services provider of the year – Exactpro Systems.
In this Risk.net interview, Alexey Zverev, Exactpro CEO and co-founder, talks about mitigating risks while driving innovation in the time of high volatility and explains what made Exactpro stand out among the contestants. Watch via risk.net.
Read the official Risk Technology Awards 2020 announcement on the Risk.net website.

About Risk.net
With an editorial team of 40 based in London, New York and Hong Kong distributed across 5 desks – Risk Management, Derivatives, Regulation, Commodities, Investment – Risk.net provides unique analytics for a global audience of banks, buy-side firms, regulators, commodities players and many others. Learn more at risk.net.
About Exactpro
Exactpro specializes in quality assurance services and related software development with a focus on test automation for financial market infrastructures worldwide. Exactpro tools apply a variety of data analysis and machine learning techniques to improve the efficiency of automated functional testing executed under load. Between May 2015 and January 2018, Exactpro was part of the Technology Services division of the London Stock Exchange Group (LSEG). In January 2018, the founders of Exactpro completed a management buyout from LSEG. Learn more at exactpro.com.