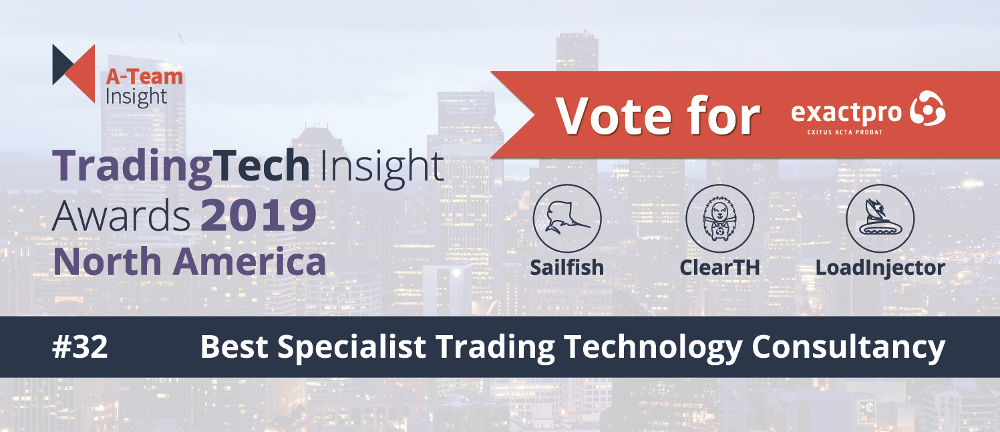 We are delighted to inform you that Exactpro has been shortlisted in the Best Specialist Trading Technology Consultancy nomination of A-Team Insight's TradingTech Insight Awards – North America 2019!
The prestigious TradingTech Insight Awards is coming to North America for the first time in response to the growing demand in recognizing outstanding regional achievements in the industry.
TradingTech Insight Awards – North America will highlight operational and product excellence in the trading technology and market data segment. The votes can be cast by financial institutions, the A-Team advisory board and the solution providers themselves.
Exactpro is nominated in the Best Specialist Trading Technology Consultancy category and needs you vote! Voting closes on Wednesday 8th May 2019.
Exactpro specializes in quality assurance services and related software development with focus on test automation for securities data distribution, trading systems, risk management, market surveillance and post-trade infrastructures. Exactpro has nearly 10 years of experience designing bespoke tools and methods for every challenge and doing whatever it takes to help the clients.
Sailfish is an active real-time Java-based tool used for exchange, MTF and broker systems testing. It can also be used as an exchange simulator for testing post-trade systems or smart derivatives. Sailfish is a web-based application supporting simultaneous connections of multiple users for both incoming and outgoing streams.
ClearTH is a web-based application for testing post-trade systems and a unique Exactpro tool able to simultaneously execute multiple end-to-end test scenarios in batches. ClearTH easily detects abnormal behavior in the system under test and effectively predicts potential issues. It offers many built-in actions to cover the majority of activities in post-trade systems. ClearTH Test Automation Framework for DLT Post Trade is available here.
Load Injector is a powerful load generator built to stress test scalable high-load trading infrastructures. The tool supports FIX (all versions), ITCH, LSE Native, SOLA SAIL & HSVF, HTTP, SOAP, and various binary trading-system protocols. The tool's architecture is flexible and allows adding other protocols. Load Injector is an open-cycle load generator capable of supporting both model and measurement approaches of performance testing.